Choosing the right skin doctor in Kathmandu is a challenge. A quick Google search on "Dermatologist in Kathmandu" will give you a list of names and clinics to pick from.
But how can Google rank the qualities that make a skin doctor better than the rest? And should you really start choosing from the top?
In this article, we give you the 7 golden tips to help you choose the right skin doctor for you. These tips are distilled from experiences of people just like you who had to go through a skin-related medical examination and/ or procedure at some point in their life.
Choosing the Right Skin Doctor in Kathmandu Tip 1: When it comes to choosing the right skin doctor for you, go for the one that can meet your needs, realistically.
According to a Forbes report, healthcare was projected to be one of the most profitable industries. People and companies make a fortune selling products and services that claim to improve your quality of health in one form or another. Some actually live up to the promise, some don't.
Thus, the first step to finding the right skin doctor in Kathmandu is no different. Go with a doctor who is upfront and straight about what you should expect from your skin treatment procedure and what you should not. While the wonder of medical science has made impossible things happen, there still are limitations to what your skin doctor can achieve.
If your dermatologist communicates clearly about the limitations of their procedure, listen to them. But if your doctor makes you feel like everything is possible under the sky, you may have to reconsider your choice. These doctors overpromise and underdeliver.
Choosing the Right Skin Doctor in Kathmandu Tip 2: Check for the dermatologist's credentials.
The medical profession is one of the most reputed and respectable professions. It is directly related to the health and wellbeing of an individual. Thus, the medical field has strict regulations and checks to ensure that healthcare providers stay up-to-date with the latest medical news, procedures, technology, and practices.
With each successive training session, skin doctors add to their credibility. Thus, you should look up your skin doctor's credentials before you entrust him with the responsibility of your wellbeing. Most often than not, a good dermatologist has a degree from a respectable institution, has enough years of experience bagged to his name, and possesses credentials of frequent participation in related training programs.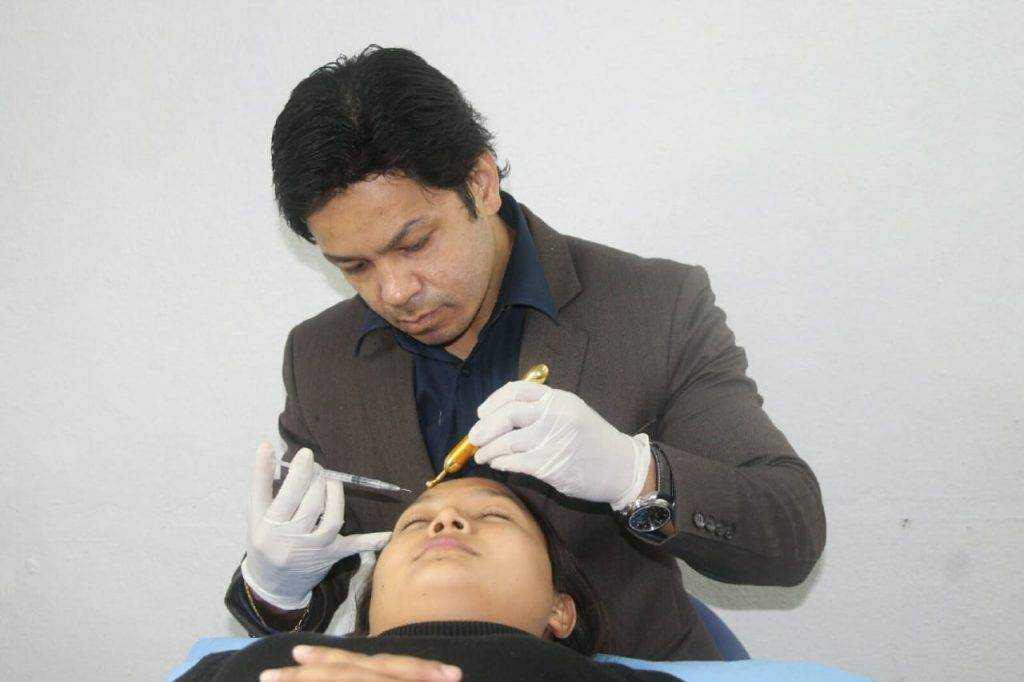 Choosing the Right Skin Doctor in Kathmandu Tip 3: Pick a specialist instead of a general practitioner.
A generalist has skills that are varied, and a specialist is one who has a particular field of study. In the medical profession, generalists tend to have roles that are very loosely defined. Meanwhile, a specialist has a role that is narrower and more pronounced.
The skin is the largest organ of the human body. When you say skin doctor, what are you looking for? Are you looking for one who can perform laser tattoo removal? Are you trying to treat hair fall-related problems? Or are you trying to rejuvenate your skin with the microneedling procedure?
As you can see, there are countless skin-related subbranches in the medical industry. As such, you will be met with better services and updated practices if you choose a skin doctor that is trained in these very niches.
Choosing the Right Skin Doctor in Kathmandu Tip 4: Check the dermatologist's track record.
A good doctor has a happy clientele behind him. Word-of-mouth advertising is the strongest asset of professionals in the medical industry. Thus, ask your friend or relative who has gone through a similar skin procedure in the past. If more than one person recommends the name of the same doctor, chances are they may have earned the right to be on their minds.
Do not choose a doctor who isn't experienced in the service that you want. Remember, a good doctor who has practiced a skin procedure enough may not be experienced in the service you want. Ask for past track records. Does he have clients that want to return?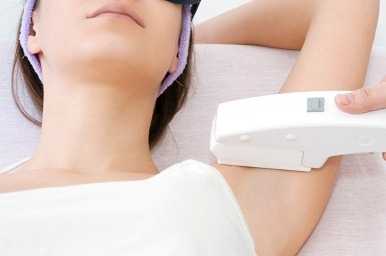 Choosing the Right Skin Doctor in Kathmandu Tip 5: Although overlooked, the skin doctor's location and schedule impact the efficacy of your treatment.
Nothing is worse than having to cancel an appointment or a follow-up session. If you choose a clinic that is far from your home or office, you may have to segregate special times for your treatment. Unless your discipline is at its best, this isn't always possible. An important task may come up, you may have to tend to someone, and a mouthful of other reasons.
Try to find out whether you have a nearby clinic that offers the service you want. However, when it comes to quality over distance, always choose quality. Understand that while the location is personally beneficial, you must do all the checks mentioned in this article before choosing your neighboring clinic.
Furthermore, the skin doctor's schedule may also affect the efficacy of your treatment. Overpacked schedule may cause a doctor to rush things or make you book follow-up sessions too soon. While medical personnel is forbidden to do such acts in theory by their code of conduct, such things do happen. Hence, you should ask when the doctor is free so you can book your appointment at the time he prefers.
Because of the shortage of skilled manpower, the best skin doctors in Kathmandu are often busy and overbooked, so a little bit of sacrifice from your side may prove beneficial.
Choosing the Right Skin Doctor in Kathmandu Tip 6: Visit the doctor.
Since online consultation for skin procedures or treatment is rare in Kathmandu, this step is arguably the most important. Now is your time to get to know about your doctor and their clinic. This is also the part where you ask questions recommended by the previous tips.
When you visit the doctor, try to know if there are other clients that have come for the same treatment that you want. When waiting in the lobby, talk to other clients and visitors. Ask them why they chose this clinic, and whether they know any better about the skincare provider.
The best skin doctors do not speak over you, rather they take time to listen to you. When your skin doctor is asking questions, being attentive to you, understand that he isn't just doing it to be courteous. With each additional information you give about your condition, you are getting one step closer to getting diagnosed right. Thus, do not ignore their politeness or the questions they ask. It all comes around to the efficacy of your own treatment.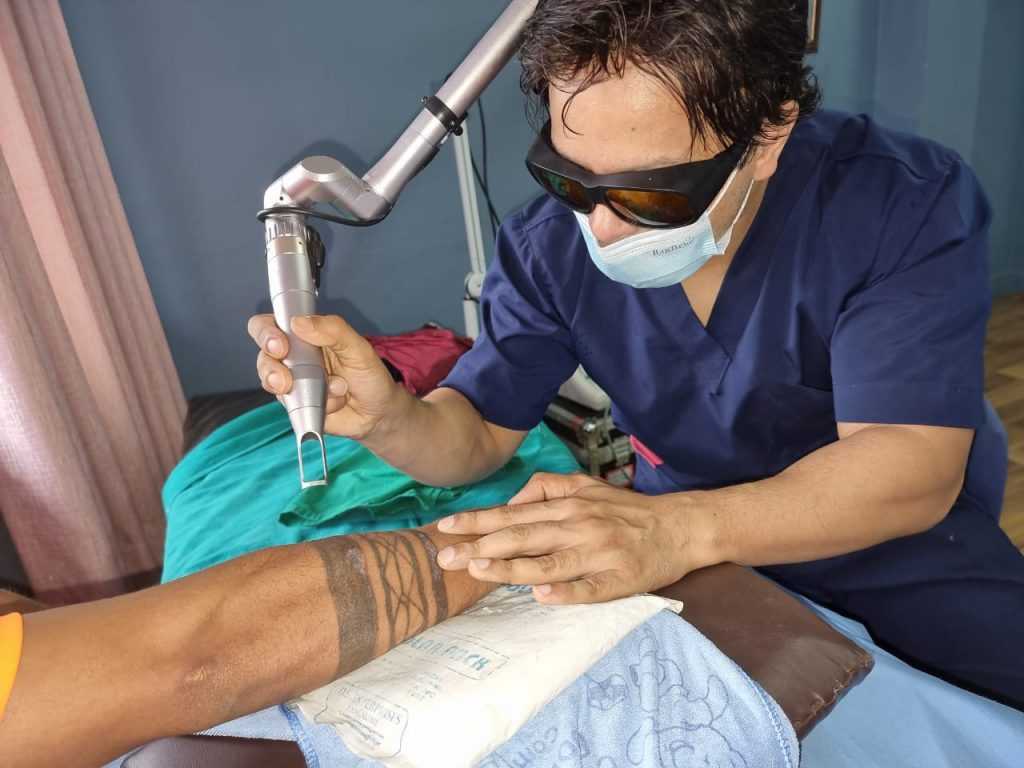 Choosing the Right Skin Doctor in Kathmandu Tip 7: Think about your experience after the first visit.
How long did you have to wait for an appointment? How did the staff treat you? Are they attentive and friendly?
Did they allow time for questions and answer them without becoming annoyed? Or did you feel rushed and unimportant?
All these things are cues to ascertain the competency of the clinic and professionalism of the skin doctor.
Meet Our Treatment Provider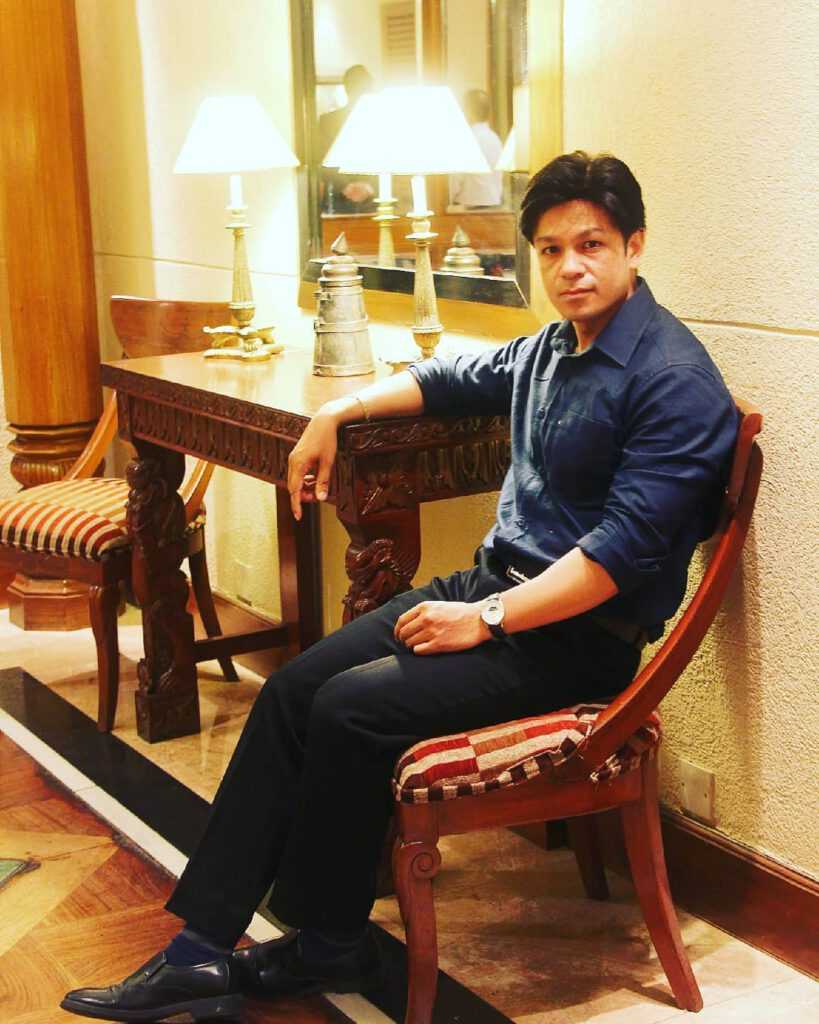 Dr. Rajan Babu Tajhya is a board-certified dermatologist and laser specialist. He completed his M.B.B.S. from Kathmandu University and Specialized Dermatology from Tribhuwan University in the year 2010 A.D.
Dr. Rajan Babu Tajhya keeps himself updated on the latest treatment procedures available in Dermatology. Our past clients frequently praise him for his calm personality and ethical treatment methodologies.
Dr. Tajhya has successfully performed numerous dermatological procedures in the past. Among the skin doctors in Kathmandu, Tajhya is ranked with the very best. This is evident in his working personality. Mr. Tajhya would rather do the removal treatment perfectly over a course of sessions than try to rush and improperly complete the treatment at once.
He is extremely well-spoken with his clients, but his actions and results certainly speak more than his words.
Call our clinic at 9813903982. You can also reach out to us via our Facebook page and Instagram.