Among many stigmas that are existent in Nepal, cosmetics and self-care are probably the two-most sensitive topics.
So, let us first address the elephant in the room: Botox treatment isn't an unnatural procedure that insecure people do. In fact, it is one of the most popular cosmetic treatments in the world.
Botox has very few risks and side effects. It adheres to the highest standards of clinical quality. Since Botox treatment is perfected by decades of research and experiments, it is totally safe for all.
However, if you are feeling unsure and fearing that people will be judgmental, just throw the insecurity out the window. Self-care is what you do for yourself and not for how others will think about you.
"The real difficulty is to overcome how you think about yourself. You yourself, as much as anybody in the entire universe, deserve your love and affection."
Explaining Botox Treatment
Botox is simply a protein that researchers found useful in medical and cosmetic uses.
When we talk about Botox treatment for the skin, we should know that it is injected into the muscles. This is why it is called an injectable medicine.
Botox injections are probably best known for reducing skin wrinkles. This cosmetic property of Botox is going to be the focus of this article.
Because Botox is efficient and effective in reducing skin wrinkles, it is used clinically to delay early signs of aging in people.
According to the American Osteopathic College of Dermatology, (AOCD), Botox is safe and has few side effects when used in a therapeutic context.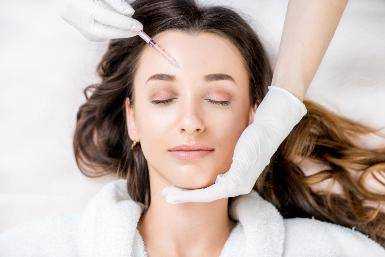 How does Botox treatment work?
Botox injections block specific chemical signals from nerves, mostly signals that cause muscles to contract. Doing this relaxes the facial muscles that cause wrinkles in the forehead and around the eyes.
If you want a more scientific answer, Botox injections prevent the release of acetylcholine, which stops muscle cells from contracting. The injected fluid reduces abnormal muscle contraction, allowing the muscles to become less stiff and contract, which would otherwise cause wrinkles.
Is Botox treatment for wrinkle removal permanent?
Medical science has advanced a lot in the last century or so. There are medical wonders that can bring a human back from death (figuratively) and add decades to one's lifespan.
Botox treatment for wrinkle removal is one such miracle. It removes existing wrinkles from the face and also delays the appearance of additional wrinkles.
However, you should understand that like everything, the effects of Botox are NOT permanent. You WILL need repeated treatments for continued wrinkle-reducing effects.
However, we're sure you will not be discouraged because the results you see after a Botox treatment are totally worth your efforts.
At Alka Cosmetic and Dermatology, we recommend clients to get another treatment after about 5 or 6 months for optimum and continued results.
What will happen if I do not repeat the procedure?
It is recommended to get another botox treatment session after 6 to 7 months from one treatment session.
There is a lie being circulated in Nepal that if you stop repeating the Botox treatment, you will end up getting even more wrinkles.
However, it is all a lie. If you get a botox wrinkle removal treatment, you will have far fewer wrinkles than those who never get one, even if you do not repeat the treatment after 6-7 months.
This is because there is no long-term side-effect of Botox. Botox is a toxin, but the amount you use is completely harmless. It is produced by a bacterium called Clostridium botulinum. Since a very diluted amount is used, your body will remove it from your system without any problems.
This is why Botox wrinkle removal is harmless, but this is also why you will have to repeat the process every 6 to 7 months.
If you continuously repeat the treatment for 10 years, your muscles might forget to contract, and hence you will get very fewer wrinkles in the 11th year.
Why is Botox treatment beneficial?
Although many critics said that Botox only hides wrinkles by partially paralyzing the face, research has shown that it may actually make the skin more elastic and more resistant to wrinkles. What it means is that you might reduce the chances of wrinkle formation in the near future because Botox has already worked on the muscles.
Thus, Botox is a safe and effective solution to remove wrinkles.
Botox treatment for wrinkle removal is especially useful for you if you have a busy life. Our work-life makes us do things that are not helpful for our overall health. The long hours in the office or continuous hard work at home puts a strain on our bodies.
Stress causes our skin to become scrunchy and tense. This is why wrinkles will begin to appear even earlier than expected.
If this is you, Botox treatment is a time-saving procedure to be free from unwanted wrinkles and frown lines on your skin and the face.
Botox Wrinkle Removal in Kathmandu, Nepal: The entire process explained in simple points
Before the procedure
a) Do not drink alcohol for two days before the treatment to prevent bruising in the injected area.
b) Be patient. It takes three days or more to see an effect.
c) Do not do Botox treatment if you are pregnant or a breastfeeding mom. You can always do the procedure later.
During Botox treatment
a) Your treatment provider will study the wrinkles and muscle structure on your face.
b) S/he will determine the right spots to inject the fluid so that you don't witness any asymmetry after Botox starts to work.
After the procedure
a) Do not exercise for a day.
b) The place where your doctor injects the Botox will have mosquito bite-like spots for some time. Do not touch that area.
c) You can wear makeup over the injected area. Just be sure not to rub hard over the spots. Be gentle when you put makeup or take it off.
d) Do not lay down for the next 4 hours.
e) Hydrate yourself enough after the procedure.
When will botox treatment for wrinkle removal show results?
In general, you can see the effects of Botox as early as 3 to 4 days after injection. Most will see results within 10 to 14 days. In 14 days, you will witness optimum results.
Keep in mind that after your first treatment, you may feel a slight 'tight' sensation or 'heaviness', which will disappear in 1-2 weeks.
If you are an impatient bird, let us tell you that noticeable results are not usually visible the next day. They were right when they said that good things take time.
Also Read: HydraFacial: Best Treatment in Kathmandu for Acne, Dark Spots, Aging, Blackheads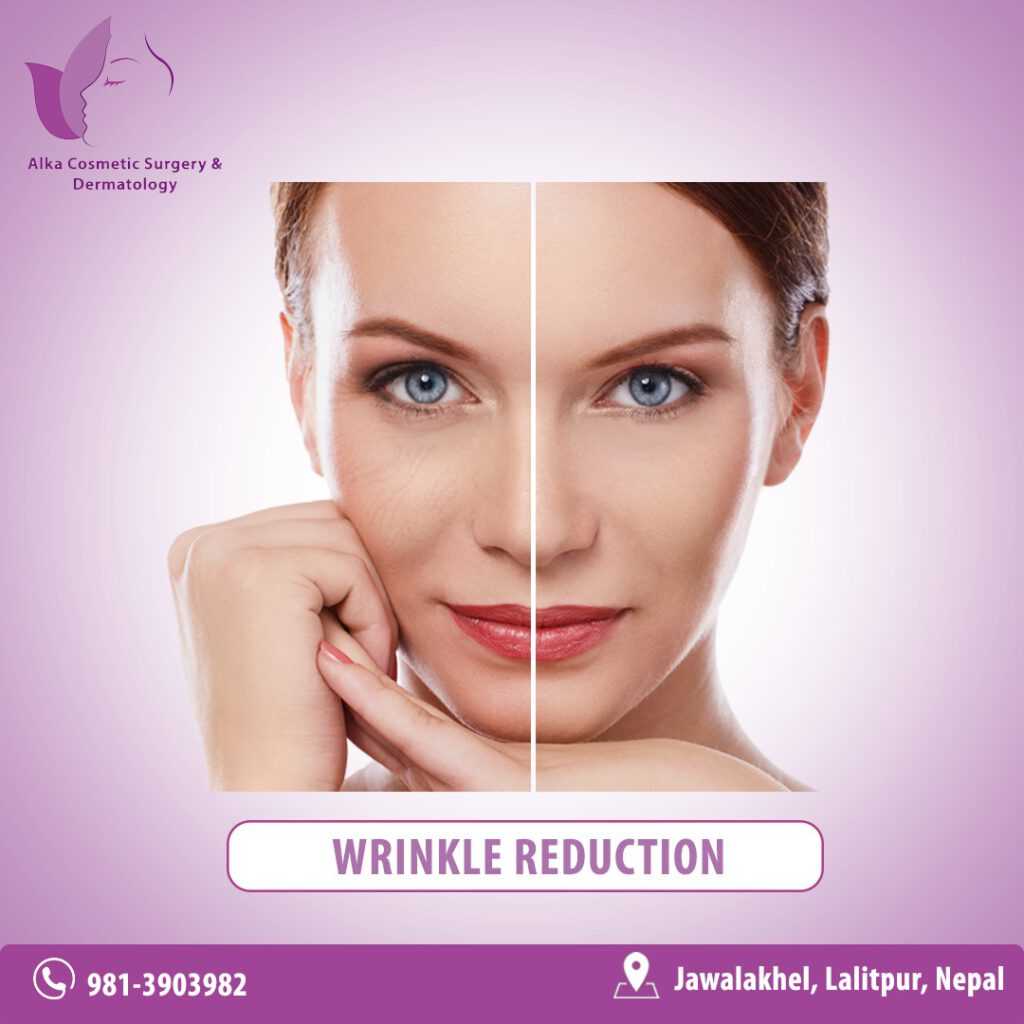 Does Botox have any side effects? What are the possible complications of Botox treatment for wrinkle removal?
According to healthline.com, "Botox was originally FDA approved in 1989 for the treatment of blepharospasm and other eye-muscle problems. In 2002, the FDA approved the use of Botox for cosmetic treatment for moderate to severe frown lines between the eyebrows. It was approved by the FDA for treatment of wrinkles around the corners of the eyes (crow's feet) in 2013."
According to a study, Botox is "a simple, safe, and effective treatment for the reduction of forehead wrinkles."
Nevertheless, you should inform your treatment provider of any medical condition you have. Also, inform them if you are currently taking any medicine. This is especially true if you are on blood-thinning medicine like aspirin. People who take aspirin tend to witness bruising in the injected areas.
These are the after-procedure scenarios of Botox:
a) Bruising (Rare with Botox. This is actually a common problem with fillers (Fillers are a possible alternative to Botox treatment for wrinkle removal.)
b) Immediately after the Botox procedure, you will have little spots, like that of mosquito bites. But these spots will go away after about 20 minutes.
c) Most people think the procedure is going to be painful. However, some don't even notice that the procedure is already over. It can be that easy sometimes. Nevertheless, most will experience pain that is tolerable. You just need two minutes of courage.
d) You do not have to allocate an entire day for Botox treatment. This procedure can be done during your work break, and you can apply slight makeup after the procedure.
e) Our certified professionals at Alka will always inform you about the issues and will do a risk assessment. If you encounter any of the problems after the treatment, immediately contact us back.
Botox Treatment in Kathmandu: Are Botox Wrinkle Removal Treatments Trustworthy in Kathmandu, Nepal?
No matter where you do your botox treatment in Nepal, know that there is plenty of dermatologist and related specialists who have studied and practiced intensively on the subject.
Luckily, the medical field has witnessed rapid advancement in Nepal, and we can get world-class treatments in our own hometown.
However, you should still do your research, and consult with a knowledgeable person to choose the right clinic for you.
We at Alka have been serving the lovely people of Kathmandu since 2012 A.D.
And your Botox procedure will be performed by the best hands we have, Dr. Rajan Tajhya.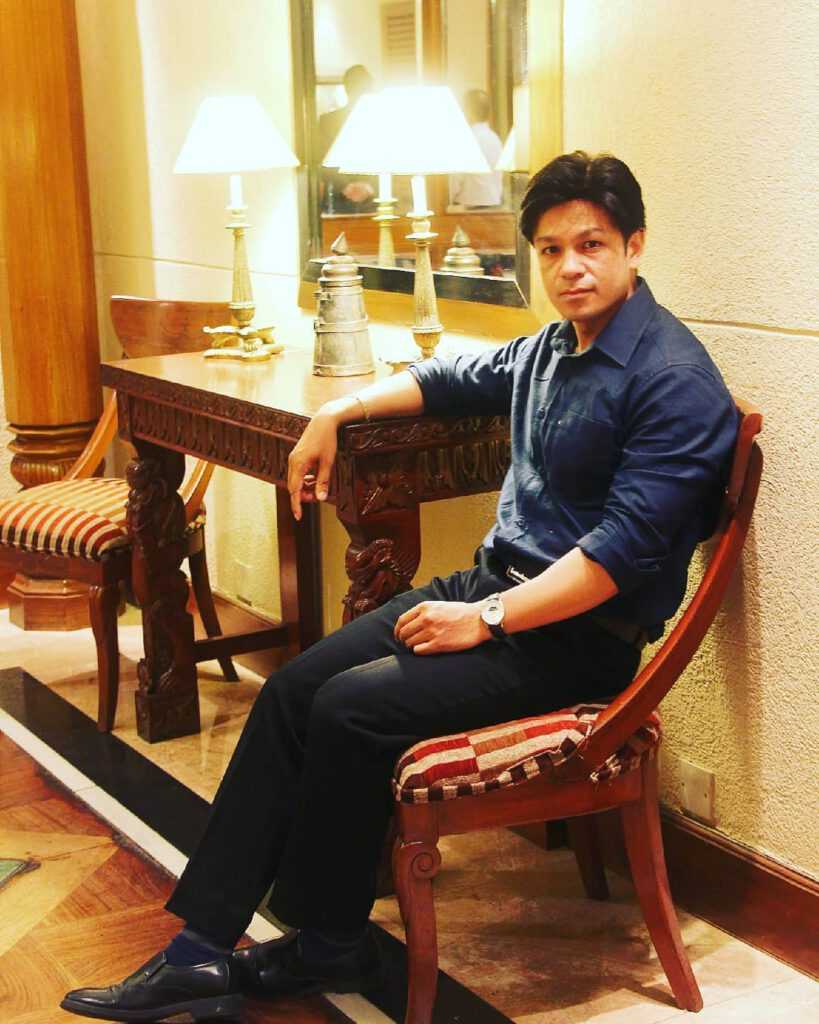 Dr. Rajan Babu Tajhya is a board-certified dermatologist and laser specialist. He completed his M.B.B.S. from Kathmandu University and Specialized Dermatology from Tribhuwan University in the year 2010 A.D.
Dr. Rajan Babu Tajhya keeps himself updated in the latest treatment procedures available in Dermatology. Our oast clients frequently praise him for his calm personality and ethical treatment methodologies.
Dr. Tajhya has successfully done Botox treatment in the past for clients whose number we can't keep track of. Alka is proud to state that he has done all his treatments with due diligence and perfection.
How much will Botox cost in Kathmandu? What is the usual price for Botox treatment in Nepal?
Botox treatment for wrinkle removal is certainly a costly procedure. The treatment can only be done under the supervision of an experienced professional.
However, the price of Botox treatment in Kathmandu, Nepal is nowhere near the pricing of plastic surgery or injectable fillers like Juvederm or Restylane.
Alka Cosmetic and Dermatology's primary focus is to always cater to the needs of its clients, i.e. to serve you in the best way.
With your best interests in consideration, here are our prices: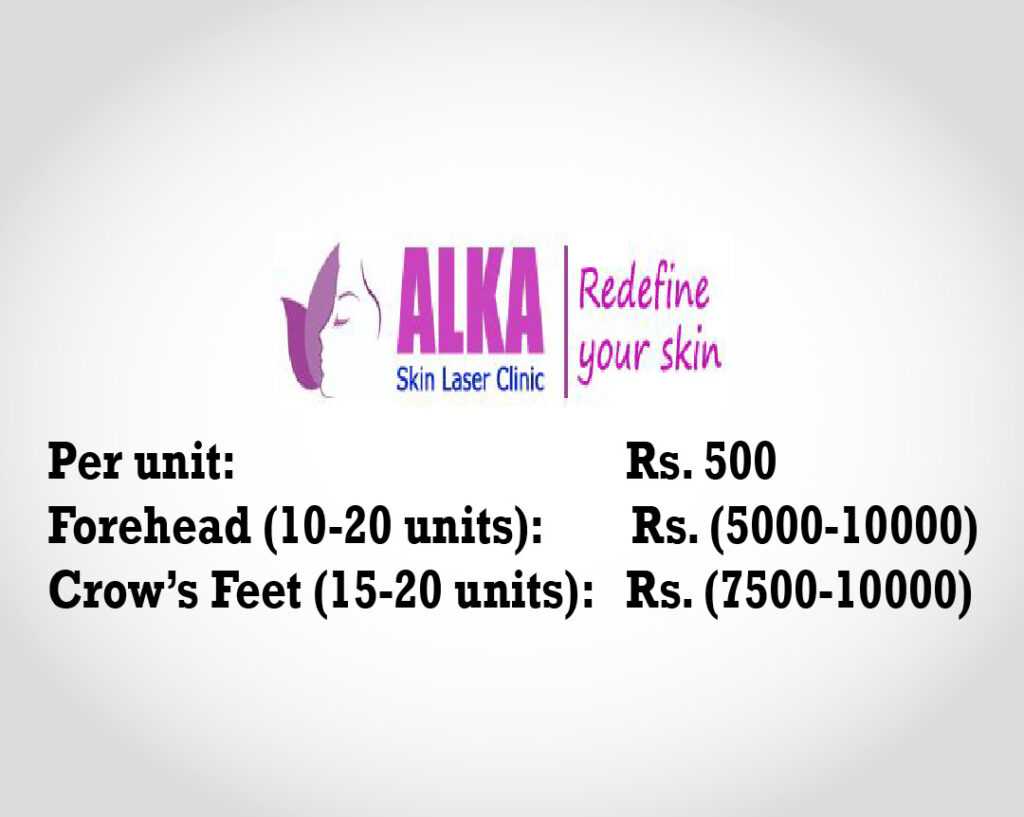 Final words from our wrinkle removal experts:
At Alka Cosmetic and Dermatology, we offer free of cost consultation by an expert skin doctor. You can clear your queries and learn more about ways to ensure a healthier skin-life.
Where to get started and get rid of my wrinkles as soon as possible?
We will be more than happy to receive your call at 9813903982.
You can also reach out to us via our Facebook page and Instagram page.